Script Requests
To request any of the scripts listed below send an email to: Rnbublitz@gmail.com
Please have "script request" in the subject line of the email. In the body include which play or plays you are interested in and the theater or school requesting the script. You can also find samples of some of my scripts on the National New Play Network. Thank you.
Full Length Plays
Lucy, a freshman in college, is torn between her excitement about the new people in her life and having to leave her old life and loves behind. As she struggles to find a balance between the new and the old, a sexual encounter leaves her confused and concerned that she may have been a victim of rape. The play moves back and forth through time and space as Lucy tries to piece together the unraveling interactions between herself and the two young men she's torn between, illuminating the events behind her uncertainty and sparking questions regarding consent.
Ripped is a finalist for the 2018 Detroit New Work Festival, and will have a reading in Detroit in April of 2018. Ripped is also scheduled to have a reading with Bristol Valley Theatre in June of 2018.
Ripped was a finalist for the 2017 Excellence in Playwriting Award from the Association for Theatre in Higher Education. RIPPED has also had readings with the Wyoming Theater Festival, San Francisco Playhouse, and Salt Lake Acting Company.
Cast of 3; 1 f, 2 m. Approximate runtime of eighty minutes.
Let's Fix Andy deals with male body images, friendship, and growing into being an adult. Andy's best friends, Logan, Marcus, and George decide it's time they step in after he's been dumped by his long time girlfriend Megan, to snap him out of his funk. All three of them have different ideas of what Andy actually needs, and so Andy is dragged to the gym, the bar, and a cabin in the woods before things come to a head and he declares that he doesn't need fixing. By the end of the play, with all four playing video games in Andy's safe place, his couch, they realize that there's no fixing anyone, and all any of us can really ask for is friendship that is focused on acceptance for who we are.
Let'S Fix Andy is a finalist for Playwrights Foundation's 2018 Bay Area Playwrights Festival, and had a reading with the 2017 Wyoming Theater Festival.
Cast of 4; 4 m. Approximate runtime of ninety minutes.
When aliens invade a small town and abduct the high school football team to steal their brain jelly, no one steps up to save them. Not any parents, not the principal, not the police, not the fire department, not the governor, not even the marines. Thankfully there's one last group no one ever thought of as heroic, and they're ready and able to kick some alien butt. That's right, the cheerleaders. Lead by science-fiction enthusiast and self proclaimed mega nerd Gilda, the Greenville High School Cheerleading Squad uses rhymes, cartwheels, glitter, and a fun-ton of tin foil to save the day.
Cheerleaders VS. Aliens was commissioned by the Egyptian Youtheatre and is having a world premiere production in May of 2018.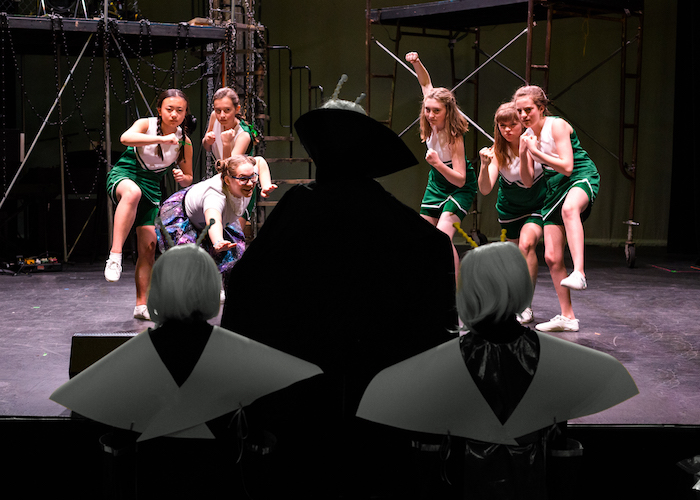 (Promotional photo from the Egyptian Youtheatre production. Time to kick some alien butt! On the left: Lindsay Miller (Leslie), Lily Malin (Maya), and Amanda Green (Gilda). On the right: Caroline Waldmann (Ali), Chelsea Cowley (Carol), and Katherine Ward (Margaret). Aliens: JT O'Reilly (Sirius), Anna Diamond (Gamma), and Mallory Kosiba (Canopus).)
Of Serpents & Sea Spray, commissioned by Custom Made Theatre Co., tells the story of an orphan named Iro who is the subject of ridicule by other children and punishment by uncaring foster parents. During one of her many tours through solitary confinement in the closet, Iro's imagination brings the her with a mission: find Pegasus. On her quest, taking with her only books and her imaginary friend Annika, Iro hides herself on an ocean liner, joins a circus, and has many other adventures… and along the way finds the truth about the death of her parents.
Of Serpents & Sea Spray was commissioned by Custom Made Theatre Co. and had a world premiere production directed by Ariel Craft in their 2015⁄16 season.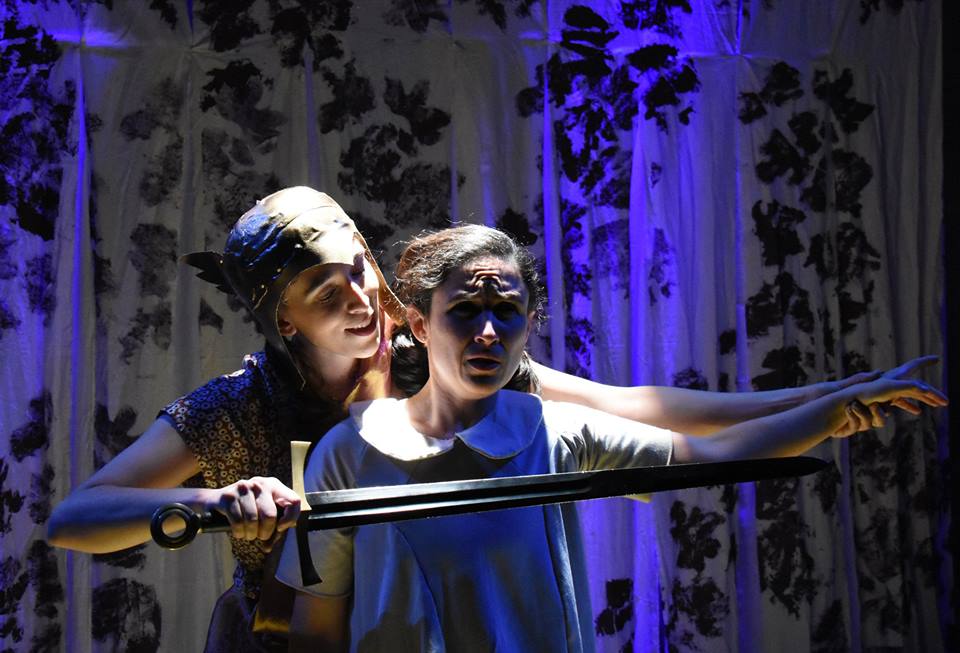 Maria Giere Marquis (Athena) and María Leigh (Iro), photo by Jay Yamada.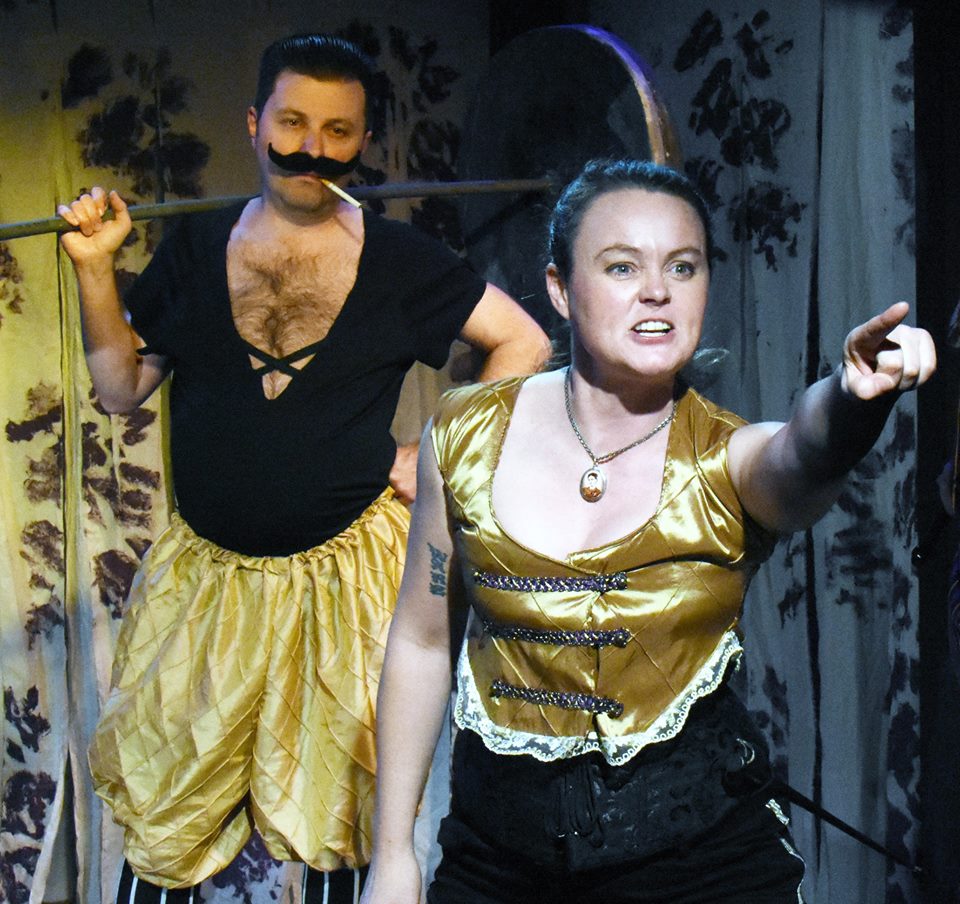 Andrew Calabrese (Pere) and Sabrina De Mio (Mere), photo by Jay Yamada.
Reviews from the Custom Made Theatre Co. production:
"OF SERPENTS AND SEA SPRAY is a fast moving funny play that has a touching close, and life discovery that stretches to the stars. It is a perfect way to open your 2016 theatre season." Full article: A RIDE ON PEGASUS IS MORE THAN ADVENTURE, IT IS ALSO SERPENTS AND SEA SPRAY by Vince Mediaa.

"In this world premiere, Bublitz has given us a fascinating look at how a young girl deals with unspeakable events. The funny, yet heart-wrenching story, includes one of the sweetest endings I've seen in some time." Full article: Curtain Calls by Sally Hogarty: Last call for Shellie tickets by Sally Hogarty
Of Serpents & Sea Spray was also produced with This Is Water Theatre's 2016⁄17 season, directed by This Is Water Theatre's Artistic Director, Andrew Roblyer.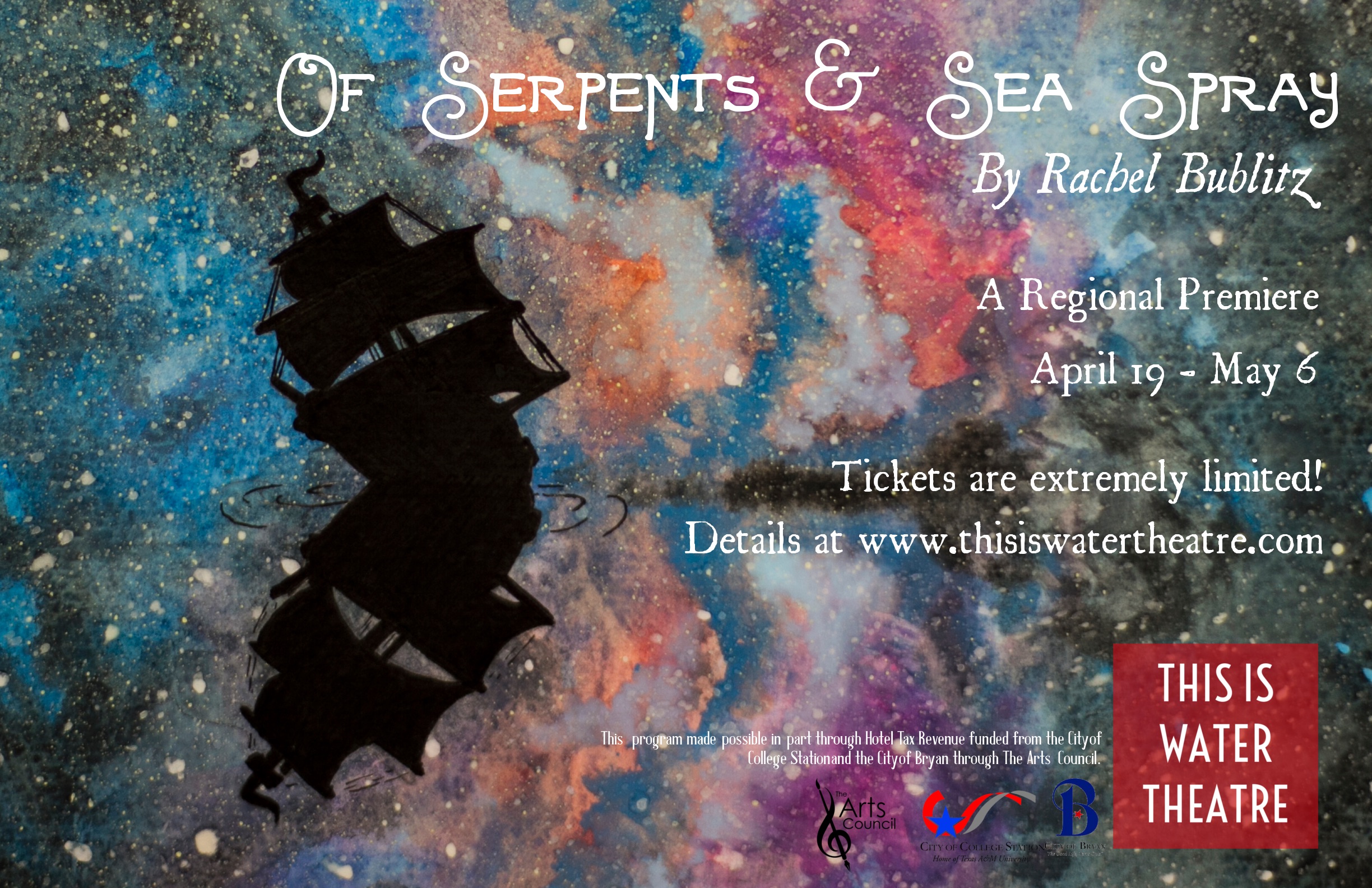 Cast of 6 with doubling; 3 f, 3 m. Approximate runtime of ninety minutes.
A full length play commissioned by DIVAfest's staged reading festival, Loud & Unladylike, inspired by the life of WWII spy Nancy Wake.
Once A Spy concentrates on 12 scenes of Nancy's life that occurred during, before, or after the war, showing the transformation of someone who happens to live through times of chaos, and the price that fighting for freedom cost Nancy.
Once A Spy had two staged readings with the Loud & Unladylike Festival, one in June of 2015, the other in July of 2015, both took place in San Francisco. Once A Spy was also read in 20% Theatre Company Chicago's DarkRoom Series in March of 2018.
Cast of 6 with doubling; 3 f, 3 m. Approximate runtime of ninety minutes.
After moving across the country, Laurel, the mother of a young child, is desperate to make a friend beyond her cheerio-throwing, Barney-obsessed baby and her over-worked, rarely-home husband, which leads her to jump for a spot in a mommy group with a mysterious reputation. Laurel is cemented in the group before she learns of their devious agenda and is forced to either shut up and join suit, or burn their coven to the ground.
Mommy Dances With The Devil was commissioned by PlayGround in 2015, a part of the June Anne Baker Prize.
Cast of 5; 5 f. Approximate runtime of ninety minutes.
One Act Length Plays
Luke, an almost thirty year old assistant manager at Target, has put together a celebration for his co-worker and girlfriend, Chloe, who happens to still be in high school. Unfortunately, what's good news for Luke devastates Chloe, and she lashes out with the only weapon she has until a new balance can be reached between them. Break Room is one continuous scene with two characters.
Break Room, was commissioned by the San Francisco Olympians Festival and read at the EXIT Theatre in November of 2015.
Cast of 2; 1 f, 1 m. Approximate runtime of 35 minutes.
Football is life, and boys are men in this twenty minute one act about gender roles. Chris is having a day the worst day of his young life, he's been dumped by his girlfriend, and is possibly kicked off the football team, when he accidentally hits a raccoon. When he discovers the animal is dead everything proves too much and Chris falls to pieces, which prompts Brandon, his best friend and most true worshiper, to follow suit. Because if the star of your life isn't a star, what does that make you? Toxic is a fast ride about status, masculinity, and how people are and are not allowed to behave.
Cast of 2; 2 m. Approximate runtime of 20 minutes.
Clever Catherine, a play for young audiences
Farmer comes across a beautiful golden mortar and decides to present it to the King as a gift, despite his daughter Catherine's warnings that the King will ask for a golden pestle to match. When the King learns of Catherine's uncanny predictions, it launches a series of riddles going back and forth between the two of them culminating in a royal marriage proposal for the clever girl. But if you marry a clever girl, you get a clever queen, and Catherine cannot help but meddle in the affairs of state. Now Catherine must use all her wits to save her marriage and prove to the King that he needs her to help him run the kingdom.
You can license Clever Catherine through YouthPLAYS, OR purchase the script here.
Cast of 5-7, 1 f, 2 m, 2-4 gender neutral. Approximate runtime of thirty minutes.
Much Ado About Mathletes, a play for high school or middle school students
Mr. Roberts tries to put a boy on an all-girl mathletes team, and he is met with opposition causing the team to think about exclusion and growing up.
Much Ado About Mathletes was being produced through San Francisco State University, and again with Redwood Day School.
Cast of 8; 6 f, 2 m. Approximate runtime of thirty minutes.
Ten Minute Plays
Julie would love to have a great first day working the Customer Service desk at Target, but maybe not as much as flirting with Frank, the employee assigned to train her. As the two discuss a possible date their personal lives become more and more clear, which leads to awkward territory.
Really Adult was an Actors Theatre of Louisville 2017 Heideman Finalist.
Reading Babar in 2070
In the slightly distant future, a little girl discovers the high price of unchecked human development and story time will never be the same.
Reading Babar in 2070 was produced in Best of PlayGround 19 and was published in the Best of PlayGround 19 anthology.
Cast of 3; 2 f, 1 m.
A play on "A Christmas Carol", Mom's Ham follows a woman's desperate attempt to make a perfect Christmas feast in honor of her mother's recent passing.
Mom's Ham was read at Berkeley Rep with Monday Night PlayGround and was a finalist for Best of PlayGround 18. In addition, Mom's Ham, was a national semi-finalist for the Kennedy Center American College Theater Festival Conference.
Cast of 6-7, 3-4 f, 3 m.
A new mom fights with her 13 year-old self about going back to work or staying home longer with the new baby.
Lean In With Liz! was read at Berkeley Rep and Shotgun's Ashby Stage, for Monday Night PlayGround and an encore reading for SWAN Day.
Lean In With Liz! was a national semi-finalist for the Kennedy Center's Gary Garrison 10 Minute Play Competition and was read in Denver of 2016 at the regional conference.
Lean In With Liz! has been produced with Cutler Bay Community Theater, Lewis-Clark State College, Greenbrier Valley Theatre, and Artistic Vibes.
Cast of 3; 3 f.
In a world in which men are trusted to make decisions about what they can and cannot do with their own bodies, the women hold all of the cards.
"My Body is clever, skillfully written, and one of the most effective gender-reversal analogies of the reproductive rights issue that we've ever encountered." The Disreputables
My Body received bicoastal staged readings, read in both Playwright's Center of San Francisco's benefit for Planned Parenthood, Repro Rights! as well as The Disreputables two evening event SLUT! Both of these readings took place in October, 2012.
My Body was produced for the 2013 sUBVERSIVE sHORTS Showcase.
My Body was published in the 2013 Smith and Kraus ten-minute play anthology. You can purchase the anthology here.
Cast of 3; 2 f, 1 m.
Composition, a ten-minute musical
Inspired by and using the song "Compose" from Misner & Smith, Nora navigates getting into an ivy-league college while trying to protect her younger from their alcoholic mother.
Composition was read at Berkeley Rep with Monday Night PlayGround in November of 2016.
Cast of 5-6; 4-5 f, 1 m.
Jane and Sandy get more than they bargained for when they break into Santa's workshop in order to steal Christmas. Warning: this play contains rhyming and children-eating elves.
The Elves was produced by PianoFight for their 2016 theater competition ShortLived.
Cast of 8; 3 f, 1 m, 4 gender neutral.
---
Not all plays listed, for a more comprehensive list, please visit my page on the New Play Exchange.